Selective cut and pasted from http://en.wikipedia.org/wiki/March_21:


EVENTS
1871 - Journalist
Henry Morton Stanley
begins his trek to find the missionary and explorer
David Livingstone
.
Stanley is often remembered for the words uttered to Livingstone upon finding him: "Dr. Livingstone, I presume?", although there is some question as to authenticity of this now famous greeting.
1905 -
Albert Einstein
publishes his theory on special relativity.
1928 -
Charles Lindbergh
is presented the Medal of Honor for his first trans-Atlantic flight.
1945 - World War II: British troops liberate Mandalay, Burma.
1963 -
Alcatraz
, a federal penitentiary on an island in San Francisco Bay, closes.
1965 - Ranger program: NASA launches Ranger 9 which is the last in a series of unmanned lunar space probes.
1965 -
Martin Luther King Jr
leads 3,200 people on the start of the third and finally successful civil rights march from Selma to Montgomery, Alabama.
1980 - US President
Jimmy Carter
announces a United States boycott of the 1980 Summer Olympics in Moscow to protest the Soviet Invasion of Afghanistan.
1980 - On the season finale of the soap opera
Dallas
, the infamous character J.R. Ewing is shot by an unseen assailant, leading to the catchphrase "Who Shot JR?"
1989 - Sports Illustrated reports allegations tying baseball player
Pete Rose
to baseball gambling.
Definite Hall of Fame career, but with the gambling scandal in the mix, his inclusion to the Hall is questionable.
BIRTHS
1946 -
Timothy Dalton
, British actor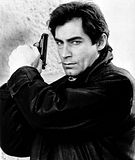 No disrespect to Timothy Dalton, but Sean Connery will always be the one and only James Bond for me.
1958 -
Gary Oldman
, English actor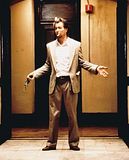 Despite his many great performances, I will always think Gary Oldman's best performance was in LEON aka THE PROFESSIONAL, directed by Luc Besson and co-starring Jean Reno and Natalie Portman.

1962 -
Matthew Broderick
, American actor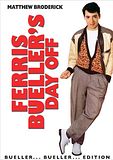 An icon of the 1980's! Broderick was also awesome in LADYHAWKE co-starring Rutger Hauer and Michelle Pfeiffer.
1962 -
Mark Waid
, American comic book writer
Most famous for his run on THE FLASH (no pun intended) and collaborating with artist Alex Ross on KINGDOM COME.
DEATHS
1617 -
Pocahontas
, Native American, daughter of Powhatan (b. c.1595)
1987 -
Dean Paul Martin
, American musician (b. 1951)

He died in 1987 when his National Guard F-4 Phantom fighter jet crashed in California's San Bernardino Mountains during a snowstorm, killing him and his WSO (Weapons Systems Officer), Ramon Ortiz. The American singer Dean Martin never recovered from the loss of his son, retiring from show business a few years later.
1994 -
Dack Rambo
, American actor (b. 1941)

Dack Rambo passed away from complications due to AIDS virus. I remember him from the short-lived TV show, SWORD OF JUSTICE, which lasted 10 episodes. At the time, I thought it was a cool concept.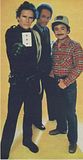 Sword of Justice was an American action-adventure television series that aired on NBC for one season during 1978-1979.

This series was considered a mix of The Saint, It Takes a Thief, and The Rockford Files. Dack Rambo plays Jack Cole, a rich playboy by day, a troubleshooting mercenary by night (a la The Saint). During a prison sentence for a crime he did not commit (a la Rockford Files), Cole learned how to crack safes, break into banks, and most of the other secrets of the criminal trade. Upon release, he decides to turn the tables on criminals by fighting them at their own game (a la It Takes a Thief), and using a unique way to leave his message: the "3" from a deck of cards, indicating how many years he spent behind bars. On these cards would be a written warning for the criminal(s). The three of clubs read: "The club is the sign of vengeance -- it holds no man as friend." The three of spades marking the end of the game, read: "The spade is the sword of justice -- its rapier marks the end."

The series was produced by Glen A. Larson.

2007 -
Drew Hayes
, American writer & graphic artist (b. July 20, 1969)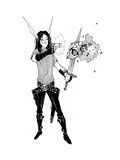 He was best known as the creator of the long-running independent comic book series Poison Elves. Hayes died at the age of 37, of a heart attack while suffering from pneumonia.
2007 -
Kevin Whitrick
, first British man to commit suicide on a live chatroom (b. 1964)