Selective cut and pasted from wiki:


SPORTS
1954 -
Joey Giardello
knocks out Willie Tory in round seven at Madison Square Garden in the first televised prize boxing fight shown in color.
1954 -
Willie Mosconi
sets the world record by running 526 consecutive balls without a miss during a straight pool exhibition at East High Billiard Club in Springfield, Ohio. The record still stands today.
Days of my misspent youth... in the poolhalls shooting pool... practicing my technique. Willie was da man! I was never any good. My best run was only 8 balls :-( LOL
1995 -
Michael Jordan
comes out of "retirement" from the NBA and plays the Indiana Pacers in Indianapolis. He wore jersey number 45 because his number 23 was retired by the Chicago Bulls. The game paved the way for another "3-peat" by the Bulls. He scored 19 points in the game.
BIRTHDAYS
1848 -
Wyatt Earp
, American policeman and gunfighter (d. Jan. 13, 1929)
1928 -
Patrick McGoohan
, American-born actor (d. Jan. 13, 2009)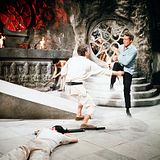 THE PRISONER tv show, on so many different levels, was way ahead of its time. A true classic of the medium. The picture is from the tv show which preceded THE PRISONER, called DANGER MAN (aka SECRET AGENT). McGoohan always stressed that John Drake aka Danger Man/Secret Agent used his brains over his brawn. That didn't prevent him from resorting to fisticuffs for self-defense.
1936 -
Ursula Andress
, Swiss actress
Anyone who has watched Sean Connery as James Bond in DR. NO, should recognize Ursula Andress.
1952 -
Harvey Weinstein
, American film producer
He is best known for his 26-year career as co-founder of Miramax Films. Of the Miramax films, these come to mind: Pulp Fiction, From Dusk 'Til Dawn, Jackie Brown, Gangs of New York, Kill Bill, 2 Hong Kong movies released by Miramax - Hero and Infernal Affairs), No Country For Old Men, There Will Be Blood, and a whole bunch of other modern and cult classics.
1955 -
Bruce Willis
, American actor
A classic icon of the 1980's, John McClane of the DIE HARD movies... Yippeekaiyay, motherf*cker! I also remember him as David Addison on tv's MOONLIGHTING. Happy Birthday Bruce Willis!
1955 -
Simon Yam
, Hong Kong actor

You may recall his role in the Hollywood movie, TOMB RAIDER, with Angelina Jolie. Fans of cult Hong Kong movies may remember him as Judge in Ringo Lam's FULL CONTACT starring Chow Yun-fat. Or as the policeman in Clarence Fok's NAKED KILLER with Yau Chingmy aka Yau Suk-ching. Sun Yat Fai Lok Simon Yam!
1964 -
Yoko Kanno
, Japanese composer

One of my favorite all-time jazz bebop songs is composed by Kanno called "Tank!" which is the opening theme song of the anime series COWBOY BEBOP. Simply awesome! Otanjou-bi Omedetou Gozaimasu Yoko Kanno!
DEATHS
1943 -
Frank Nitti
, American gangster (b. 1883)
One of Al Capone's top guys.
1950 -
Edgar Rice Burroughs
, American author (b. 1875)
Creator of Tarzan and John Carter of Mars... 'nuf said.
2005 -
John De Lorean
, American automobile engineer (b. 1925)
Growing up during the 1980's, who doesn't know Michael J. Fox as Marty McFly in the BACK TO THE FUTURE films and his De Lorean car?
2008 -
Sir Arthur C. Clarke
, English science fiction author and inventor (b. 1917)