A belated selective cut and paste from http://en.wikipedia.org/wiki/March_30:


Events
240 BC - 1st recorded perihelion passage of Halley's Comet.
1822 - Florida Territory created in the United States.
1842 - Anesthesia is used for the first time in an operation by Dr. Crawford Long.
1858 -
Hymen Lipman
patents a pencil with an attached eraser.
My father has always taught me 'Men are not perfect and will make mistakes. That's why there's an eraser at the end of the pencil." Now I know... I can thank Hymen Lipman for allowing us to be imperfect. :-)
1867 - Alaska is purchased for $7.2 million, about 2 cent/acre ($4.19/km²), by United States Secretary of State William H. Seward. The media call this Seward's Folly.
1870 - Florida territorial government is established.
1909 - The Queensboro Bridge opens, linking Manhattan and Queens.
1939 - The Heinkel He 100 fighter sets a world airspeed record of 463 mph.
1954 - Yonge Street subway line opens in Toronto. It is the first subway in Canada.
1981 -
President Ronald Reagan
is shot in the chest outside a Washington, D.C., hotel by
John Hinckley, Jr
.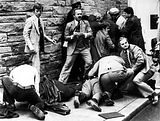 One of the earliest instances in my memory of seeing the Secret Service in action. Check out the agent with the Uzi.
Births
1853 -
Vincent van Gogh
, Dutch painter (d. 1890)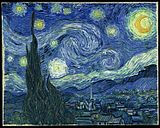 Know him best for THE STARRY NIGHT JUNE 1889.
1913 -
Frankie Laine
, American singer (d. 2007)
I know him best for singing RAWHIDE.
1927 -
Peter Marshall
, American game show host
The host of the game show THE HOLLYWOOD SQUARES... a staple of our household when I was a kid.
1930 -
John Astin
, American actor
Probably best known to TV fans as Gomez Adams of THE ADDAMS FAMILY. Another staple of my childhood TV.
1937 -
Warren Beatty
, American actor and director
1945 -
Eric Clapton
, British guitarist
1957 -
Paul Reiser
, American actor
1962 -
MC Hammer
, American rap musician
1964 -
Tracy Chapman
, American singer
1968 -
Celine Dion
, Canadian singer
1970 -
Secretariat
, American racehorse (d. 1989)
1979 -
Norah Jones
, American singer and pianist
Deaths
1986 -
James Cagney
, American actor (b. 1899)
The second movie Cagney's company produced was Blood On the Sun. Insisting on doing his own stunts, Cagney required judo training from expert Ken Kuniyuki and Jack Halloran, a former policeman.