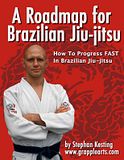 Check out
http://www.beginningbjj.com/
for your free copy (if you haven't already) of Stephan Kesting's "A Roadmap for Brazilian Jiu-Jitsu".
You have to add your email address to the form and you will be emailed the pdf or a link to to download the free pdf (forget which at the moment). In addition you will get a complimentary Beginning BJJ eCourse courtesy of Stephan Kesting.
If you have not heard of Kesting before, here is his bio (cut and pasted from his site):
"Hi there, and thank you for visiting my site!

My name is Stephan Kesting and I operate BeginningBJJ.com and Grapplearts.com. Through my DVDs, articles and newsletters, I have helped tens of thousands of grapplers all over the world improve their Brazilian Jiu-jitsu skills.

Grappling is my passion, and I want to help it become yours too. Whether your goal is to compete, challenge yourself, improve your fitness level, lose weight, or acquire some serious self defense skills I truly think that Brazilian Jiu-jitsu (BJJ) has a lot to offer you. I'm not kidding when I call it the most sophisticated martial art in the world.

Why should you listen to what I say? Here's my brief biography and Martial Arts resume:

I am a Brazilian Jiu-jitsu black belt, and have been doing martial arts for over 25 years. I am also a certified instructor in Erik Paulson's Combat Submission Wrestling, a black belt in Kajukenbo Karate, an instructor in Dan Inosanto's Jun Fan JKD, Maphalindo Silat and Filipino Martial Arts program. Additionally I have also studied Japanese Judo, Russian Sambo, various Chinese Kung Fu systems, Brazilian Capoeira, Muay Thai Kickboxing, and many other martial arts."
Read more of his bio at
http://www.beginningbjj.com/about-stephan-kesting.html
.
For anyone into BJJ or just grappling, this should really help your game. Check out the testimonals on his site.
Enjoy!