Cut and pasted from http://www.usatoday.com/sports/boxing/2009-04-29-pacquiao-popularity_N.htm: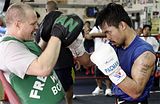 Click thumbnail for bigger picture.
By J. Michael Falgoust, USA TODAY
To understand exactly who Manny Pacquiao is requires deeper inspection than simply calling him the best pound-for-pound fighter today.

While he's the first Filipino athlete to appear on a postage stamp in his country, he's also a virtual lock to win a congressional seat in the Philippines when he runs next year. On Friday, when the next issue of Time magazine hits the stands, Pacquiao is listed as one of the world's 100 most influential athletes.

Saturday, when he meets junior welterweight champion Ricky Hatton in the first major pay-per-view bout of the year (HBO PPV, 9 p.m. ET, $49.99), he could solidify his position as the best fighter of his era as he goes for a record fourth lineal world title after becoming the champion at flyweight (112), featherweight (126) and junior lightweight (130). He's also held major belts at junior featherweight (122) and lightweight (135).

"He transcends just an Asian fighter," says boxing historian Bert Sugar. "He's a great fighter."

It's an accomplishment that once seemed unreachable when Pacquiao — who grew up in squalor, living in housing made of cardboard — began his career in 1995 at 106 pounds, even though he won his first world championship three years later.

He didn't appear to be special. He had only four knockouts in his first 11 fights, and he was knocked out twice on singular body shots as a flyweight.

"When I lost before," Pacquiao says, "I lost because I couldn't make my fighting weight. I was too dehydrated."

As he added pounds, Pacquiao morphed into a fighting machine, dubbed the "Mexican Assassin" after toppling the holy trinity of boxing's featherweight and lightweight divisions — Marco Antonio Barrera, Erik Morales and Juan Manuel Marquez.

Barrera was considered the best pound-for-pound fighter, with Morales and Marquez not far behind.

All three are future Hall of Famers, but Pacquiao fought each at least twice, going 5-1-1 and scoring 11 knockdowns. Pacquiao is the only boxer to knock out Barrera and Morales.

Pacquiao also became the first fighter to stop Oscar De La Hoya below the middleweight division. In the highest profile victory of his career in December, Pacquiao battered The Golden Boy into submission after the eighth round.

As a result, he comes into Saturday's bout with Hatton as the favorite, although the Englishman is undefeated at 140 pounds, where he has been champion since 2005.

"The pressure is there and it is big, but I don't want to put that in my mind," says Pacquiao, whose trainer, Freddie Roach, has predicted a third-round knockout. "I don't want to think about that.

"Ricky Hatton is a different kind of fighter than I have ever fought before. The style of Ricky Hatton is not easy. He is a good fighter, and a strong fighter."

It took 34 fights before Pacquiao burst onto the American scene in 2001.

He was a big underdog against Lehlo Ledwaba — a junior featherweight beltholder who was being bred for stardom in the loaded 122- to 126-pound classes— but Pacquiao was too fast and too strong in his first fight under Roach.

Pacquiao, a southpaw who took the fight on just two weeks notice when Ledwaba's original opponent fell out, busted the South African's nose in the first round and finished him with a series of straight lefts in the sixth.

Proving that his victory wasn't a fluke, Pacquiao cleaned out boxing's most competitive division (126) for the past decade, triumphing where Latinos, especially Mexicans, had dominated.

"It's definitely unique. He carries his weight very well," says Shane Mosley, a three-division world champion who climbed from lightweight to junior middle (154). "His power stays around because his legs are big."

Last year alone, Pacquiao won fights in three weight classes. The Marquez win made him the lineal champion at junior lightweight, he won a share of the lightweight crown by knocking out David Diaz three months later, and six months after that he stopped De La Hoya.

Even Hatton can't deny the magnitude of such a feat. "That's incredible, bearing in mind the weight he's fighting at now. It's an absolutely unbelievable achievement," Hatton says. "From where Manny started to where he won his last world title, that is more impressive (than what I've done)."

Plenty of exceptional fighters have risen in weight only to falter. One of the most glaring examples is Alexis Arguello, a classic boxer-puncher who ruled between 126 and 135 pounds from 1974-82. But when Arguello moved up to 140, he lacked the firepower to hold off Aaron Pryor.

More recently, two-division lineal champion Felix Trinidad, the first to defeat De La Hoya in a welterweight unification bout in 1999 and undefeated between 147-154 pounds, rose to 160-170 where his two-fisted power hasn't been nearly as lethal. He's 3-3 there.

As a lightweight, Mosley won all 31 fights and 29 inside the distance for a 94% knockout rate. In the 20 fights he's had since, between 147 and 154 pounds, his KO percentage has fallen to 50.

"It's a little different for Pacquiao. Pacquiao is a little more amazing in that he can still be competitive with all this extra weight. That's remarkable. I kept my power at '47, but at '54 I lost a little bit."

Pacquiao insists that the argument over size or who'll be strongest is overblown. "Boxing is (about) more than hitting," he says. "It is using your mind, and being quick is very important."

Bob Arum, chairman of Top Rank Inc., which promotes Pacquiao, expects him to fight once more this year — provided he wins Saturday — and a bout in early 2010 before the fighter campaigns in June for a congressional seat in the Philippines. Arum recently had dinner with Imelda Marcos, the country's former first lady.

"They hope even if he's elected to Congress that he will continue boxing," Arum says.



---





PACQUIAO AT A GLANCE



Professional record: 48-3-2, 36 KOs

Opponent: Ricky Hatton, 45-1, 32 KOs

Best performance: 11th-round TKO vs. Marco Antonio Barrera in 2003 to win featherweight championship.

Quotable: "Pacquiao shows great flashes, great patience then great flashes. ... He's an Energizer bunny with a hell of a left hand. (Trainer) Freddie Roach taught him he had two hands. When we first saw him he was a one-handed fighter. He wasn't Manny Pacquiao as we know him today." -- Bert Sugar, historian
---
Being a FMAist at heart, and Manny "Pacman" Pacquiao was an arnisador, I'm rooting for Pacman. From all accounts, this will not be an easy fight for both fighters. Looking forward to the fight this weekend!