Here is an early instance of the Superman Punch used in MMA:

BIB - Beatdown in Bakersfield - Savant Young X Danny Suarez - 2006-11-17


<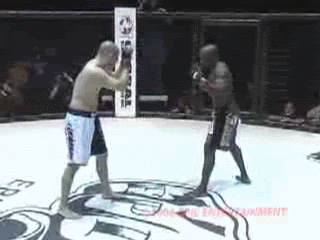 NOTE: The above 2 animated pix were made by me off of a youtube flv. The quality is not that good as you can see, but the source wasn't high quality:
---
2 recent instances of the Superman Punch. Not my pix, my thanks to the unknown gif maker(s) for them. I got them off of
Spladdle
and uploaded to my pichost to save on bandwidth:
UFC 92 - Forrest Griffin X Rashad Evans
UFC 94 - GSP X BJ Penn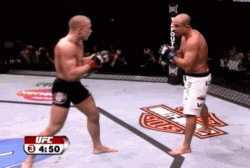 ---
For more info:
Expert Village's How-To instructional vidclip
---
It is said that some TMA like Goju-Ryu, TKD as well as Muay Thai has this punch. Just curious, anyone recall the first instance of the Superman Punch in MMA?