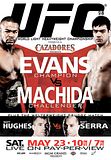 Click for a bigger picture.
Date: May 23, 2009
Time: 10PM ET/7PM PT
Location: MGM Grand Garden Arena, Las Vegas, Nevada
Tickets: Ticketmaster & Stubhub

Main Event: Light Heavyweight Championship
205#: "Sugar" Rashad Evans (18-0-1) vs Lyoto Machida (14-0)

Main Card:
170#: Matt Hughes (43-7) vs Matt Serra (16-5)
185#: James Irvin (14-5-1) vs Drew McFedries (7-6)
185#: Dan Miller (12-1-1) vs Chael Sonnen (23-10-1)
155#: Frank Edgar (9-1) vs Sean Sherk (37-3-1)S

Undercard Bouts:
170#: Brock Larson (26-2) vs Chris Wilson (13-5-1)
HWY: Pat Barry (4-0) vs Tim Hague (9-1)
155#: Kyle Bradley (13-6-1) vs Phillipe Nover (6-1-1)
205#: Krzysztof Soszynski (18-9-1) vs Andre Gusmao (5-1)
170#: Brandon Wolff (7-3) vs Yoshiyuki Yoshida (10-3)
155#: David Kaplan (3-2) vs George Roop (8-5)
Sadly, I don't know most of the fighters.
I think Lyoto wins by decision unless he gets some miraculous opening Rashad presents him and Lyoto gets a KO. I think Lyoto is elusive enough and capitalize on his counter-attack game against Rashad. I like both fighters but going with Lyoto on this one.
Despite Hughes having lost his previous 2 and hasn't fought in some time, I think Matt Hughes wins, I don't think Matt Serra has adapted his BJJ to MMA. I don't see how Serra will win.
Looking forward to Saturday's UFC.