There's a new MMA event called Bellator.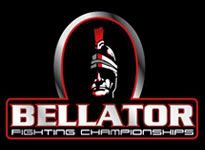 Bellator Fighting Championships is a first of its kind Mixed Martial Arts (MMA) promotion that will be broadcast nationally in the U.S. starting April 2009 through an exclusive television agreement with ESPN Deportes. Bellator will also be broadcast to countries around the world through a collection of broadcast agreements.

Bellator, Latin for "Warrior," began with the realization that the fighters and the competition between the fighters must be the central focus of any Mixed Martial Arts organization. With that in mind, founder and CEO Bjorn Rebney set into motion a new business model in MMA, where elite, world-class fighters will control their own destiny. At Bellator, fighters use their hands, knees, elbows, feet, hips and heart to determine who fights for the world title. In short, Bellator is a modern MMA tournament, bringing together a collection of world class competitors under one banner to fight for the right to call themselves World Champion. While matchmaking plays a key role in the development and maturation of fighters at various stages of their careers (particularly early in their careers), once fighters become world-class competitors, our belief is that they should be able to control their own destiny.

Bellator's events will be nationally televised through ESPN Deportes, with each broadcast focusing solely on the fights and fighters. Bellator Fighting Championships is not a "reality television" program, but is instead real sports programming in its purest form. Bellator is simply the best fighting the best to determine who becomes champion and who earns the largest purse. Bellator's premiere season consists of 12 two-hour events which will be broadcast every Saturday night in primetime, with the first show airing April 4, 2009 (click here to view full schedule). The nationally televised events will showcase a combination of tournament and non-tournament special feature bouts. There will be four simultaneous tournaments taking place in season #1 over a three month period: one in each of the Featherweight (145 lb.), Lightweight (155 lb.), Welterweight (170 lb.) and Middleweight (185 lb.) divisions. Eight world-class fighters from around the globe will be represented in each division. To win the Bellator Championship, a fighter must win a total of three fights, each consisting of three five-minute rounds over a three month period. At the end of the initial three month, 12-event season, Bellator will have crowned four Bellator Champions and will have awarded each Champion $175,000. In round #1 of the competition, winners earn $25,000. In round #2 (Semi-Finals), winners earn $50,000 and in the Finals, winners earn $100,000.
Check out
http://www.bellator.com/
for more info. From this young event, comes an awesome sub as well as an awesome KO.
In the running for KO of the year :-)
BFC (Bellator Fighting Championship) 6 - Yahir Reyes X Estevan Payan - 5/8/2009 - Reyes with a spinning backfist KO of Payan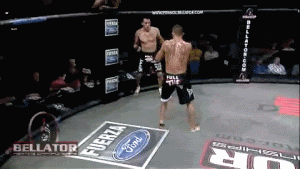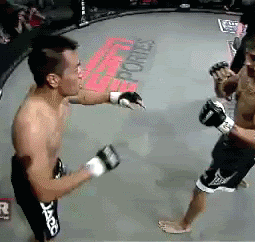 ---
In the running for submission of the year :-)
BFC (Bellator Fighting Championships) 5 - Toby Imada X Jorge Masvidal - 5/1/2009. Imada with an Inverted Triangle Choke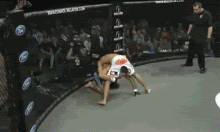 NOTE: I got these pix off of
Spladdle
and my thanks to the unknown gif maker(s).