Chad, a member on the Dog Brothers forum, formed a UFC Fantasy League called ALL DOGS GO TO HEAVEN. My first time 'betting' on this type of thing. I chalk it up to beginner's luck more than anything.

Also some of the fighters I didn't know, I just copied my friend Ausgepicht's picks. Of the 4 fights which I did know the fighters, I was wrong on Coleman vs Bonnar. I'm a Coleman fan from back in da day, and after the Shogun fight, felt Coleman should retire. Thought he would gas and that would allow Bonnar to win by sub. Coleman showed a lot of heart in his fight against Shogun and in UFC 100, he showed me he can still fight as witness his unanimous decision over Bonnar.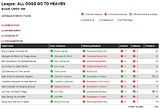 Click for bigger picture.
Lucky me over these picks, going to go buy the lottery tonight LOL.