Cut and pasted from http://en.wikipedia.org/wiki/Bruce_Buffer:


In an interview with MMAMemories.com on March 26, 2008, Buffer stated, "let's call it the 'Buffer 180°'." Buffer peforms 45° and 90° turn before most fights, and but reserves the "Buffer 180°" for main events and co-main events. At UFC 100, Buffer performed a "Buffer 360°".
---
Joe Rogan
posted about UFC 100 and the Buffer 360 and put up these 2 vidclips:
---
My thanks the original gif maker for this: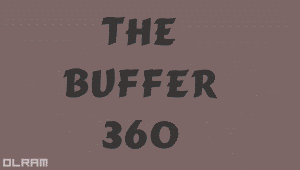 Not my GIF, props to the OLRAM for it
Enjoy!