My thanks to the original gif makers and to my friend Ausgepicht for posting the gif's to his forum Spladdle. I uploaded to my pichosts to help save on bandwidth. Enjoy!


---
GEORGES ST. PIERRE VS THIAGO ALVES


GSP won by unanimous decision. Despite a groin pull, GSP throughout 5 rounds continually took Alves down and controlled him on the ground. GSP's takedowns scared off Alves' kicks.


---


BROCK LESNAR VS FRANK MIR

Frank Mir's best chance in round 2 against Brock Lesnar was this exchange.




This was Round 2 of Brock Lesnar vs. Frank Mir. Round 1 was almost the whole round of Brock ground and pound similar to the round 2 G&P.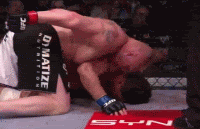 ---


DAN HENDERSON VS MICHAEL BISPING

Henderson and Bisping fought because they were the coaches of The Ultimate Fighter season 9.

Bisping, known as a stand-up fighter only, tries to take world-class wrestler Henderson down.




The KO that put Bisping to sleep.




Here's a bigger pic of the flying elbow/forearm after the KO.




Bisping was told by his corner to stop circling to Henderson's power which was his right. One of Boxing's maxims says the same thing. He paid by not listening to the advice.

The preview of this blog entry shows the large pic correctly, but after posting, it seems to be cut off. Right-click save as and then view it offline.




Enjoy!