The Ancient Bare Knuckle Muay Thai Seminar DVD focuses on the tactics and fighting strategies of the various regional bare knuckle systems that existed in Thailand when bare knuckle fighting flourished throughout the kingdom. The original tactics were then synthesized and streamlined into what we now know of as modern ring Muay Thai.
The older bare knuckle fighting methods were complete martial arts systems for use not only in the ring but also for self defense, meditative and ceremonial practice as well as health and restoration. The various regional systems along with the fighters and masters that propagated them provided an incredible bank of techniques from which a practitioner could draw from and perfect. The popularity of ring Muay Thai along with the banning of the bare knuckle tournaments lead to its fast decline with few of the actual systems remaining in functional practice today.
In this first volume dedicated to foundation strategies, the viewer will be lead for the first time ever through a complete understanding of what is Muay, the seven principles of the Thai martial arts, the seven tenets that establish a foundation for action, the art of disruption and the decision cycle as well as an array of techniques from the infamous tiger walk to the various footwork patterns and attacks.
Colonel Amnat Pooksrisuk has devoted his entire life to the preservation and propagation of the complete spectrum of Thai martial arts as well as the strategies and principles that govern them. A career military man, he has tirelessly trained and documented many of the ancient and modern methods under the last remaining Grandmasters throughout Thailand. A key figure in the World Muay Thai Council, he continuously works to promote Muay Thai throughout the world. Ajarn Pooksrisuk is one of the few remaining masters who possesses the knowledge of how the Pichai Songkram or Thai Manual Of Warfare provides the keys to understanding the underlying principles that govern all the Thai Martial Arts.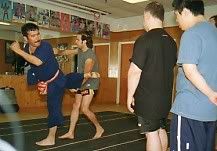 " A vital reminder that the depth of the Thai Martial Arts have rarely been explored or even understood in the West. Colonel Amnat Pooksrisuk passionately shares his knowledge on the foundation strategies and principles many of which still reverberate today in the modern Muay Thai ring. A superb DVD for those seeking to understand the underpinnings of the ancient bare knuckle systems. "



- Clint Heyliger,
United States Muay Thai Association


Running time: 82 minutes
ORDERING INFO:
http://www.ancientmuay.com/