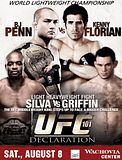 Click thumbnail for bigger picture.
UFC 101 Declaration takes place on August 8, 2009 @ the Wachovia Center in Philadelphia, Pennsylvania.
Main Event: UFC Lightweight Championship
155#: Kenny Florian (13-3) vs. Champion BJ Penn (13-5-1)
Main Card
205#: Anderson Silva (24-4) vs. Forrest Griffin (16-5)
170#: Johny Hendricks (5-0) vs. Amir Sadollah(2-0)
185#: Ricardo Almeida (10-3) vs. Kendall Grove (12-5)
155#: Josh Neer (25-7-1) vs. Kurt Pellegrino (19-1)
155#: Shane Nelson (13-3) vs. Aaron Riley (27-11-1)
Preliminary Bouts
170#: Tamdan McCrory (12-2) vs. John Howard (11-4)
185#: Alessio Sakara (17-7) vs. Thales Leites (14-2)
170#: Dan Cramer (1-0) vs. Matthew Riddle (2-0)
155#: George Roop (9-5) vs. George Sotiropoulos (9-2)
170#: Jesse Lennox (14-1) vs. Danillo Villefort (9-2)
I do not know many of the fighters only the 2 big "name" bouts. BJ Penn, hard to not pick him when he's back in his weight of 155 instead of moving up to challenge GSP. Not sure if what I heard is true, both Florian and Penn are excellent grapplers, but they have a gentleman's agreement to keep it standup? If so, with Penn's excellent jabbing as witness his fight vs Joe Stephenson, I think Penn wins.
Hard to not pick Anderson Silva to win, until he loses, I'm going with Silva. I like Griffin and my friend Ausgepicht thinks if anyone has a chance to beat Silva it's Griffin.
What are your picks?
Cannot wait for later tonight for the fights!