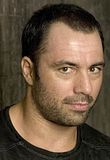 Picture borrowed from http://www.comedycv.co.uk. Click the thumbnail for a bigger picture.
2 days ago, August 11, it was Joe Rogan's birthday. I was jammed with real life and wasn't able to post about it. Happy Belated 42nd Birthday Joe Rogan!! Many more to come!!
On top of everything else going for him, he's a brown belt in BJJ and a color commentator for UFC!
---
Wiki entry
Joe Rogan's Official site