from NY Post (http://www.nypost.com/seven/10012008/news/worldnews/blades_of_gory_131524.htm)


BLADES OF GORY
MIRACLE FOR KNIFED TEEN
By TODD VENEZIA
These amazing X-rays tell a stunning story of survival - in which a 16-year-old boy somehow lived through a horrifying attack by a thug who plunged a knife into his skull.
The miracle kid was stabbed and left for dead during a robbery at a bus stop last November in south London, the BBC reported.
It could have been a grisly end for the victim if his pals had not intervened and fought off the attacker. They suffered serious wounds themselves during the robbery attempt; one was stabbed in the chest.
The 5-inch blade was plunged into the 16-year-old's skull just above his right eye, and penetrated all the way to his ear. The handle was left ghoulishly sticking out, as captured in these images released yesterday.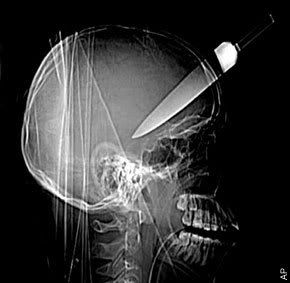 The victim has recovered and is now a student in college, the BBC reported. But he still needs to visit doctors regularly.
The 17-year-old suspect made his getaway on foot, but was later identified when cops were able to recover DNA from his hat.
The attacker - who, like the victim, has not been named publicly due to British law - was found guilty of attempted murder by the Inner London Crown Court.