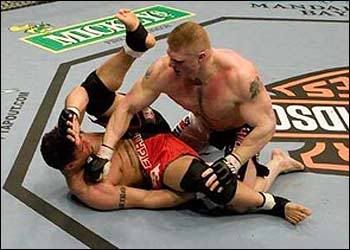 No spoilers...this was a good fight IMO. I expected one fighter to win one way, and early on, he looked to have the advantage...but the fight ended the way I predicted with the other fighter winning by the way I expected him to win. That may sound confusing, but if you saw the fight, you will know what i mean LOL
From
UFC.com:
11/05/2007

Super Bowl Showdown set between Lesnar and Mir

By Thomas Gerbasi

In a classic case of putting your money where your mouth is, new UFC signee Brock Lesnar – who has made no bones about wanting to fight the best the heavyweight division has to offer – will make his Octagon debut at UFC 81 on February 2nd against none other than former UFC Heavyweight Champion Frank Mir.

The bout will be held at the Mandalay Bay Events Center in Las Vegas, Nevada on the eve of Super Bowl XLII.

"It's an interesting matchup," said UFC President Dana White. "Lesnar is a great wrestler, a good athlete, and this is definitely gonna be a big test for him. Frank Mir is a former world champion who is coming off a big win over Antoni Hardonk, and he's looking to get his career back on track while Lesnar's looking to walk into the UFC and prove what type of fighter he's gonna be by trying to knock him off."

The 6-3 ½, 265 Lesnar (1-0) comes to the UFC with stellar college wrestling credentials that saw him earn All American status four times, win Big Ten Championships twice, and also win the 2000 NCAA National Championship. After leaving the University of Minnesota, the South Dakota-born Lesnar gained fame as a professional wrestler and also had a stint with the NFL's Minnesota Vikings. In 2007, he made his mixed martial arts debut and annihilated Min Soo Kim in just 69 seconds on June 2nd.

"This guy's not trying to duck anybody," said White of Lesnar. "He knew once he got in the UFC that he was gonna fight tough guys."

28 year old Las Vegan Frank Mir (10-3) was destined for stardom from the moment he stepped in the UFC Octagon, and he lived up to all expectations when he submitted Tim Sylvia in 50 seconds in 2004 to win the UFC Heavyweight Championship. Unfortunately, Mir's career ground to a halt when a serious motorcycle accident later that year forced him to the sidelines for almost two years. His eagnerness to return forced him into some spotty performances when he did return in 2006, but at UFC 74 in August, Mir was back in top notch form as he submitted Antoni Hardonk in just 77 seconds.

Posted 2/4/08 "as-of" 2/2/08